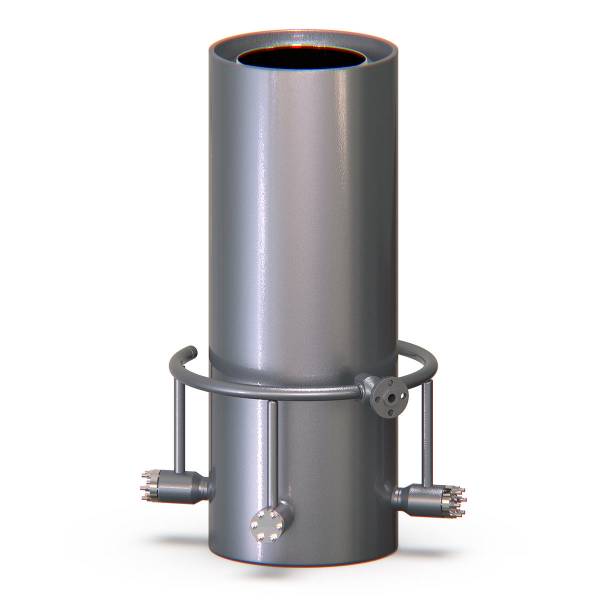 BVT-DLP steam desuperheater
A steam desuperheater is used for reducing the temperature of superheated to steam close its saturation point, where thermal efficiency is highest. This is performed by injecting spray water into the steam flow. Spray water flow is controlled by an external water control valve and injected perpendicular to the steam flow using a series of spring-loaded spray water atomizing nozzles. The steam pipe is protected from thermal stresses by a welded liner which also acts as a flow profiler, increasing the relative steam velocity near the nozzles and improving evaporation. The number of nozzles are chosen based on the steam pipe diameter, in order to improve the spread of injected water over its cross section, and the nozzle springs are chosen / preloaded to avoid flashing in the nozzle opening.
Key features
Very high reliability due to being able to handle thermal cycling
Flow profiling liner as standard
Designed to handle large spray water flow
Nozzles resistant to flashing
Water atomization pressure is maintained at each nozzle at any flow condition
Even distribution of spray water in the steam pipe
Negligable pressure drop in the steam line
Rangeability
Determined by spray water valve
Pressure class
EN PN 16-320
ASME 150-2500
Design temperature
Steam – 630 °C
Water – 250 °C
Materials
Nozzle body/plug
X19CrMoVNb11.1, AISI 616
Spring
Heat resistant spring steel
Steam pipe/liner
Adapted to connecting pipe materials
Water pipes
X10CrMoVNb91, A-182 F91
13CrMo44, A335-P11 or
St35.8, A105 or
10CrMo9-10, A-335 P22
Nozzles and springs are also available in Inconel for high temperature applications or conditions without water injection.